Ashraf Fayadh sentenced to death – update below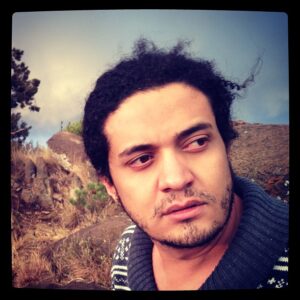 pardon me, forgive me
for not being able to pump more tears for you for not mumbling your name in nostalgia.
I directed my face at the warmth of your arms I got no love but you, you alone, and am the first of your seekers.
Ashraf Fayadh , Palestinian poet and artist  – born 1980, to be executed 14 January 2016
http://arablit.org/2015/12/16/ashraf-fayadh-appeal/
Update 3 Feb 2016
gleaned from initial (and unofficial) translations to English of various reports in Arabic media: * ** *** ** * The Abha General Court overturned the death sentence passed against Palestinian poet Ashraf Fayadh on charges of apostasy and sentenced him instead of 8 years in prison and
800 lashes, which it decreed would be implemented in batches of 50 lashes during separate periods of time. Two elements that informed the decision to revoke the death penalty were remorse from Fayadh, and, the fact that the original charges resulted from a complaint from a person involved in a dispute with Ashraf which was of a personal nature, not a religious one, not a criminal one, not a political one. (They had argued about a soccer game!) Today, Tuesday, February 2, 2016, Fayadh's lawyer added that a defense committee exists which has expressed their opposition to the new sentence, and that an application is being filed for the release of the accused, stressing their belief in the innocence of Ashraf Fayadh of all charges against him.

Ledbury Talking Poetry – Poetry Salons
Ledbury Poetry Festival's first Poetry Salon for 2016 will welcome Maitreyabandhu on Tuesday 9 February. The second part of the evening is open to you, with short reading slots available. These slots are open to all (sign up on the night) and are a chance to share your poems in an intimate setting with a friendly audience. We welcome experienced writers and those starting to read their poetry. Hopefully through these 'poetry salons' we can build a supportive community of writers and listeners in Ledbury all year round, as well as during the Ledbury Poetry Festival. Tuesday 9 February, 7pm – 9pm, The Panelled Room in The Master's House, £5 to include a drink.
We hope you enjoy these images taken during the 2015 Ledbury Poetry Festival
Walt Whitman said 'To have great poets, there must be great audiences'.
Poets from across the globe, great actors performing the works of legends, exciting new voices, opportunities to write and perform, music, film, fun family events.

 John Burnside was our Festival poet in residence and he offered workshops, gave a reading and also talked about his 'desert island poems'. The Festival also featured Simon Armitage, Pam Ayres, Sophie Hannah, Jane Yeh, Denise Riley, Imtiaz Dharker, Nic Aubury, Don Paterson, Steve Ely, Eleanor Rees, Matthew Clegg, Chris Jones and Paul Henry. Rowan Williams appeared in conversation with Marina Warner on Poetry and Belief. James Booth talked about Philip Larkin. As always we hosted the brilliant Foyle Young Poets and Eric Gregory Award Winners, plus winners of the National Poetry Competition. We are excited to have welcomed our own Ledbury Poetry Competition winner and recent Costa Prize winner, Jonathan Edwards in an event hosted by Ian McMillan. Juliet Stevenson read Emily Dickinson poems with Mark Fisher giving the context.
Become a Friend of Ledbury Poetry Festival
If you are interested in becoming a Friend of Ledbury Poetry Festival please contact Sandra our Finance Manager on the 01531 636232 or email finance@poetry-festival.co.uk .
Some of our Sponsors
The Pennington-Mellor-Munthe
Charity Trust